PPLC Coaches featured in ACC Network Program about Pitt Women's Lacrosse Inaugural Season!
PPLC coaches featured in ACC Network program about Pitt Women's Lacrosse Inaugural Season!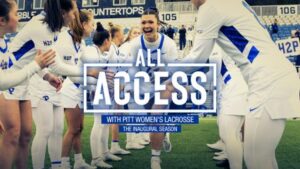 On June 23rd, Pitt women's lacrosse players and PPLC coaches, Karina Latsko (#87/PPLC Alum/2025 coach), Reilly Reed (#27/Green Monsters coach), Brittany Villhauer (#25/Green Monsters coach) and Gabby Turano (#23/Goalie coach) all appeared in the premiere of the ACC Network Program "All Access."  This rare, behind-the-scenes look at the Pitt women's lacrosse team, as it competed in its first official season as an NCAA Division I program, is part of ESPN's Fifty/50 series in honor of the 50th anniversary of the passing of Title IX, which helped give women the equal opportunity to play sports.
PPLC even got a shoutout with footage of Coach Karina at our practice and a picture of her with members of our 2025 Squad! Click HERE to see the segment featuring PPLC!  If you missed the original airing of this program and would like to see it in its entirety, please search for it on the ESPN Streaming App.